Raccon-Gloved Thief
Racoony the Racoon is the most famous thief in Vigilia. He has such determination that nothing can stop him if he wants to rob you. How does he manage to travel between realms? That's a good question my friend, he is the only animal to be able to use "El Método de la llave", which was taught by his creator. Raccony calls himself Animal pioneer.

In his next adventure, he'll have to rob a gangster, who likes to complicate things, so you have to help him. As Homer in the Simpsons did it for Maggie...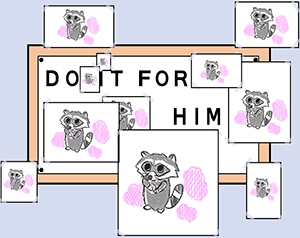 ✨This project was created for the Oniria World Game Jam 2✨
✨ HOW TO PLAY?

This is a point-and-click game, so we are going to use the left button of the mouse to play.
Click the objects in Vigilia and then travel to Oniria to see if your actions have changed something or not.

The goal is to find the pin code for the safety, which is hidden on both realms. In order to achieve this goal, you have to find the notebook first, where you can read the clues to find the 4 numbers, each clue will appear after you find the previous one.
Only 3 of 4 numbers will appear in the notebook, for the last you will have to be observant.

DEVELOPMENT TEAM
Comments
Log in with itch.io to leave a comment.
Para votar en la game jam tienes que pinchar aquí 🤓
So inventory is 1/2 visible and not active. The safe offers text but no puzzle or anything for opening it. Not sure if this game is complete, but I can't do much in it.
Now it's just frozen. Test game before publish next time please ./.

Some obj are bugged, not so much time to test, but yes, u can pass the game if u do correctly!
Hello Sue!
Thank you for playing our game.
This game is for a game jam, so we didn't have so much time to pulsing it. That's the reason why we put "in development" for status and why you find some bugs.
We are not sure about what you mean by "The safe offers text but no puzzle or anything for opening it", if you reached the safe, that means that you have found all the numbers hidden in the room.
The order of these numbers is given by the notebook as well as the clues of how to find them. These numbers are the pin code for opening the safety.
Sorry if you experience wasn't satisfactory. Now that the game jam is over we're focused on fixing bugs.
We hope see you again and enjoy the whole experience without bugs 🤗
Replayed...
My book had all but last # which I brute forced when I replayed slowly.

I found when it froze up I could hit pause and it unfroze :)
Nice!
The last number never appear in the book! U need to count something for know the number X)
Nice u can play it!!
You can try again! Tell me if u find any bug!